By Michael Wilke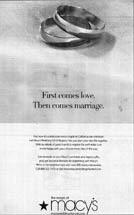 Just weeks after the California Supreme Court said "I do" to same-sex marriage, Macy's West division ran full page newspaper ads in San Francisco and Los Angeles showing two wedding rings and the headline, "First comes love. Then comes marriage. And now it's a milestone every couple in California can celebrate."

Same-sex marriages in California began in mid-June, so all the new couples are going to need lots of gifts. The newspaper ads support wedding registries at Macy's, one of the nation's largest department stores with 810 stores in 45 states, which replaced the "bride/groom" language on its registries in 2005.

"We already had registration for same-sex couples, but after the landmark decision by the Supreme Court, we wanted to let the same-sex community know we're in the registration business," says Molly Hernandez, special services market of Macy's West for 259 stores.

It's unclear if the Macy's marriage ad will appear more, but Hernandez says, "I'd love it to run again." (The ad ran with a different headline earlier this year in the Seattle Gay News, "You're making a commitment, and so are we.")

Macy's, which celebrates 150 years in 2008, has itself shown greater commitment to the gay and lesbian marketplace lately, and plans to continue to increase its efforts nationally.

"Last year we really stepped up our efforts," says LaTonya Lawson, VP-Broadcast, New Media and Campaign Planning for Macy's West. "We felt we needed to have a marketing group to advance in a really targeted way to be more relevant" to a gay audience. "To do a better job with Pride, we got a float and brought 150 employees. It was great, everybody was all over it. It was a fun event!"

Pride parade program ads from Macy's West last year showed same-sex couples of varying ages, genders and ethnicities with headlines like, "Pride is more than the name of a parade." Another from Macy's East, showing two same-sex couples holding hands, carried the headline, "Pride is always in fashion."

At the downtown Union Square location in San Francisco, in June the store runs dedicated Pride tribute windows, a cocktail party in the visitors lounge, and special offers through partner hotels and airlines.

Gay Pride activities also happen at some of the Macy's East division's 253 stores. The flagship Herald Square store creates tribute windows and has had floats in the New York City Pride Parade for the past five years, and a number of other stores also create Pride windows, including Philadelphia Center City, Washington DC Metro Center, Minneapolis, and Chicago State Street stores.

Yet in Boston in 2006, controversy erupted when a conservative group called MassResistance objected to the store's Pride window, which featured two male mannequins, one with a Pride flag around his waist. The mannequins were removed but the background featuring Pride event dates remained in the window.

"We believe in diversity, and our customers are very important to us," Macy's East spokeswoman Elina Kazan told Associated Press. "But (the display) did offend a few of our customers, and we had to re-examine it."

But the Pride windows have been back each year, and this year Macy's also participated in the Newly Wed New York event in Rochester, a GLBT wedding expo organized to celebrate the state's decision to recognize same sex marriages performed elsewhere.

Taking the strong regional activities of its divisions to the next stage, "next year the plan is to make this more of a national strategy," says Lawson.

Other Retailers Celebrated Gay Pride and Marriage Earlier

Although Macy's is the biggest retailer to create same-sex marriage ads and use store windows to celebrate Pride, it isn't the first.

In 1997, Diageo's liquor brand Bailey's created its first gay-specific ad by pairing two male-faced coffee cups together when Hawaii looked like it was going to be the first state with same-sex marriage.

In 2001, Northeast department store Fortunoff ran outdoor ads in New York City featuring openly gay Village Voice columnist Michael Musto wearing a wedding veil to promote its own wedding registry. Also that year, Grupo Campari's Skyy Vodka showed a woman on her knees proposing to another woman with a ring in a martini glass, and AIDS drug Sustiva depicted two men actually marrying.

As Massachusetts own courts decided on same-sex marriage back in 2004, Kenneth Cole's New York City store windows displayed male mannequins holding hands near a sign that said, "Obtain marriage licenses here" and a road sign on the wall indicating "San Francisco 1943 miles, New Paltz 90 miles" -- cities that spontaneously issued marriage licenses in the wake of Massachusetts' marriages. The wall was stenciled with "We see a pattern here."

Despite the stereotype that gay men like shopping, only a few fashion retailers have put a major stake in gay ground.

In 1996, San Francisco-based The Gap, Abercrombie & Fitch in Columbus, Ohio, and upscale New York store Bergdorf Goodman were also early arrivals. Saks Fifth Avenue and Armani Exchange arrived a year later, and in 1999 Bloomingdale's (once independent, now under Macy's) and Gap's Banana Republic followed. Few tried gay-specialized images, though.

A comparative latecomer, Macy's first ad ran an ad in gay media for its web site in February 2000 on gay.com, and in OUT magazine in 2003.

Meanwhile, less fashionable Wal-Mart quit before it got started. While it never got to the stage of advertising, it explored the idea during late 2006 and 2007 after becoming a corporate sponsor of the National Lesbian & Gay Chambers of Commerce before backing out under fire from conservative organizations.

Still, other retailers continue to try out the market. Target Corp. took some steps with OUT magazine in 2007, and H&M did too in February.

As more states recognize same-sex unions of all kinds, retailers have much to gain by advertising that they're ready to serve all the happy new couples.